About us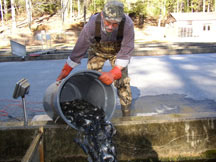 Operated by the South Carolina Department of Natural Resources (SCDNR), this fish hatchery is one of five in South Carolina serving a vital role in the management of our state's fishery resources. The Walhalla State Fish Hatchery is unique in that it is the only state hatchery involved in the culture of trout, a coldwater species. Trout are produced here in support of recreational fishing. When they reach an appropriate size, the trout are stocked wherever suitable coldwater habitat occurs in South Carolina.
The streams of the Appalachian Mountains are generally pristine and of good water quality. However, they are frequently not very fertile and are not as productive as streams in other areas of the country. This is due to the type of bedrock from where they originate which produces low alkalinity in the water. Therefore, streams in South Carolina do not typically support high fish populations on their own. This fact, combined with heavy fishing pressure, creates the need for supplemental stocking with trout from the hatchery to sustain a viable fishery.
Other hatcheries operated by SCDNR produces a variety of fish species more suited to warmer waters. These would include largemouth bass, smallmouth bass, channel catfish, blue catfish, bream, striped bass and hybrid striped bass.
Beginnings
Construction of the Walhalla Fish Hatchery Began in the mid 1930's. The first trout released from here occurred about 1937. The stone hatchery building, the wood frame garage/workshop, and the hatchery quarters were built by the Works Progress Administration and the Civilian Conservation Corps. The original rearing tanks were small circular pools. The present raceways and newer buildings were constructed in the 1950's and 1960's, with the exception of the public restrooms, which were completed in 1994. The oxygen supplementation system was added in 1990 to increase production.
Originally, the hatchery was operated by the Bureau of Sport Fisheries, Department of Commerce. It was next under the direction of the U.S. Fish and Wildlife Service, Department of Interior. In January, 1996, supervision of this hatchery was transferred to the South Carolina Department of Natural Resources.
Contact us
Hatchery Manager
Walhalla State Fish Hatchery
198 Fish Hatchery Rd.
Mountain Rest, SC 29664
Phone: (864)638-2866