Construction of the Spring Stevens Fish Hatchery was completed during 1936, on a site just south of the Lancaster County town of Heath Springs. The Federal government allowed $24,100 in cash and labor donations for the construction on property which was provided by Colonels Elliott White Springs and John T. Stevens. Construction was accomplished through the Works Projects Administration (WPA) with major renovations occurring during the mid-1970s.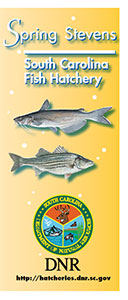 The Spring Stevens brochure is provided in the Adobe PDF file format. Adobe® Reader® is required to open the above files and is available as a free download from the Adobe® Web site.

Species Raised:
Striped bass
Channel catfish
Number of Ponds: (7) production ponds and (1) reservoir pond. Production of over 500,000 fish is done annually.
Water Source: Unnamed Creek.
Acres of Water: 4.2 acres in production ponds.
Contact us:
Spring Stevens
5290 Fish Hatchery Rd.
Heath Springs, SC 29058
803-273-3306