The Cohen Campbell Fish Hatchery was constructed in 1935 with WPA/CCC funds. Originally the hatchery was called Camp Styx. At times it was known as the Richardson Hatchery and for many years Styx Hatchery. In 1985 the Pine Ridge facility was renamed and dedicated as the Cohen Campbell Hatchery in honor of a deceased manager who had provided 31 years of service to the hatchery program.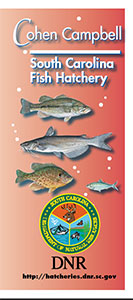 The Cohen Campbell brochure is provided in the Adobe PDF file format. Adobe® Reader® is required to open the above files and is available as a free download from the Adobe® Web site.

In West Columbia at 2726 Fish Hatchery Road (S-32-103) 1.3 miles west of U.S. Highway 321.
Species Raised:
Largemouth bass
Striped bass
Bluegill
Redear sunfish
Channel catfish
Robust redhorse suckers
Number of Ponds: 15 production ponds and (1) reservoir pond. Over one million fish are produced annually.
Water Source: A reservoir pond of 3.5 acres which is maintained by pumped surface water from Congaree Creek or by three wells.
Acres of Water: 11.85 acres.
Contact us:
Campbell
2726 Fish Hatchery Road
West Columbia, SC 29172
803-755-2070